Global's
Dual Roller High Frequency Vibrators
About Global's Roller Vibrators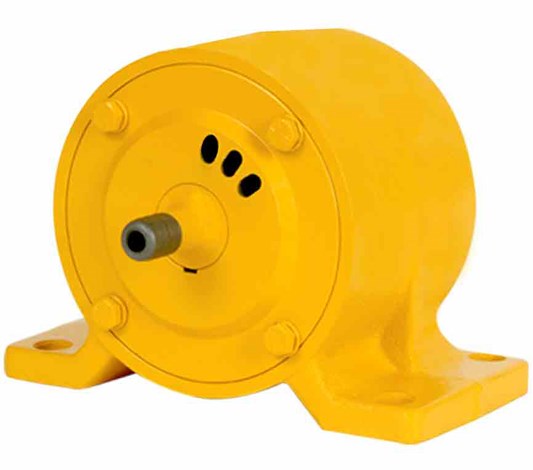 GCD Permanent Mount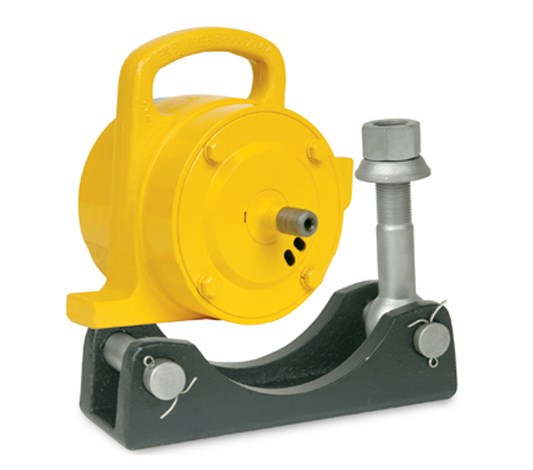 GCL with GCL Bracket Portable Mount
Global manufactures two housing profiles in the High Frequency vibrators; GCD - Four bolt mount for permanent application and the GLC - cradle lug housing fits an universal standard bracket for portability. These dual roller vibrators use compressed air to push two concentric rollers around a shaft producing rotary vibration.The vibrator's single piece shaft has a hose barb end to which a standard 1/2" airline hose is attached. Compressed air is injected into the shaft at pressures ranging from 40 - 80 psi (2.8 to 5.5 bar). Higher air pressures at intermittent intervals are allowable, but there is faster wear on the vane and side plates. A vane with slots on one side runs along the length of the vibrator shaft. Air enters the vibrator through the shaft and pushes up the vane. The slots in the vane cause the air to travel in one direction around the shaft. The inner roller begins to rotate, which causes the outer roller to rotate. The weight of the outer roller presses the vane back into the shaft, and the vibrator continues to run. The air travels around the shaft and exits through the exhaust slots. Due to the size and weight of the rollers, these vibrators produce much more force than ball vibrators. The largest High Frequency Vibrator is capable of handling a load up to 66,000 pounds (29,937 kg). Use multiple vibrators on a single hopper when the load is greater than 66,000 pounds (29,937 kg). For example, to restore flow to a hopper with 130,000 pounds (58,967 kg), use two High Frequency Roller Vibrators. These vibrators are also used in concrete consolidation. For more information please see:
Advantages of High Frequency Roller Vibrators
Most Rugged and Wear Resistant Roller Vibrators available.
The housing is ductile iron for durability and the side plates are surface hardened, which extends the life to this wearing surface.
The steel shaft is hardened for long life and even wear. A single piece shaft with a hose barb on one end lasts longer than conventional two-piece shafts that can fret or rust.
There are eight assembly bolts to fasten the side plates, which are sheltered inside the body to protect them from damage. Competitive brands have a through bolt engaging both side plates together, which extreme rough handling will damage. These vibrators are typically attached to a bracket for portability and are subject to rough handling.
Easy repair and maintenance - Global offers replacement parts and an extensive rebuild program that refurbish the vibrators to like-new condition. This can significantly reduce the cost of ownership by extending equipment life. The air vanes are one wearing part. Eventually replacement side plates are necessary, but the surface hardened side plates last longer than traditional ones on the market.
No Bearings or Motors - means reliable performance, lower maintenance costs, and simple, easy operation.
High Frequency and High Amplitude Vibration.
Versatile - Easy to control force and frequency by adjusting air supply.
More Reliable Start-up - Dual-roller design assures fast, reliable starts every time.
The GCL model is a very popular model for worldwide use.
Fully Portable - GCL model is portable and can easily be moved from form-to-form.
Fits universal standard cradle lug bracket.
A convenient handle on GCL vibrator allows easy and safe transport.
Our GCL Bracket has a special swivel washer that lasts longer than the regular flat washers some 'other' models use.
Rigid Mounting technique on bracket - Provides secure mount for maximum safety and performance.
Produces Uniform, Directional Flow.
Specifications
Filtered Air - depending on model and mount orientation.
40-80 psi (2.8 - 5.5 bar).
46-67 cfm (1,302 - 1,897 Lpm).
Lubrication required.
95 - 110 dBA.
GCL High Frequency Vibrator used in a universal cradle lug bracket for portability.
GCD High Frequency Vibrator has a 4-bolt permanent mount base.
Force output range up to 6,600 force pounds (29,358 N) at 80 psi (5.5 bar) based on model used.
Frequency range up to 15,400 rpm at 80 psi (5.5 bar) based on model used.
Operate up to 80 psi (5.5 bar) – higher psi permissible but wears unit faster.
Maximum Ambient Temperature up to 200ºF (93ºC).
Accessories
Manual Valves - 2-way manual ball valve used to turn the vibrator on and off for normal operation.
Solenoids - For remote or automated control, use 2-way normally closed solenoid valve to turn the vibrator on and off for normal operation.
Airline Kits - Required for trouble-free operation and long life of high frequency dual roller vibrators. Includes airline filter, lubricator, and pressure regulator with gauge.
Universal GCL Cradle Lug Bracket - Heavy-duty bracket used to mount portable GCL models on hopper or forms. Has special swivel nut that lasts longer and helps hold the vibrator tighter than regular nut and flat washers.
GCL/GBM and GCL/GBMX Brackets - Provide wedge mount for railcar hopper pockets for GCL models.
Sirometer - Convenient, compact rpm meter for measuring vibrator speed.
Selection of Roller Vibrators for Hoppers
For details, see:
Selection of Pneumatic Roller Vibrators for Concrete Consolidation
Please see: