Air Cannon Accessories
Airline Check Valve - Used to prevent accidental firing of Air Cannon if air supply problem causes pressure to drop in Air Cannon feed line.
Airline Kit - Recommended for trouble-free operation and long life of Air Cannons. Includes airline filter and pressure regulator with gauge. Either standard or auto-drain models available.
Blaster Master Timer - A Programmable Logic Controller (PLC), with graphic Human Machine Interface (HMI), used for managing the sequencing and firing intervals of a group of Air Cannons. Must use a 24-Volt solenoid with our Timer. Blaster Master Timer Manual »
Discharge Isolation Slide Valve - The slide valve isolates the Air Cannon from the material and heat inside the structure during maintenance. It provides a lockout - tagout system for safety procedures. Fits 4" discharge pipes.
Manual Valve - 2-way manual ball valves, used to control the air supply to the Air Cannons and 3-way manual ball valves for manual firing of the Air Cannons.
Mount Hardware Kit - Straps and hardware for supporting tanks when bin wall strength is not adequate.
High Temperature Diffuser Nozzles - Heavy, cast, special stainless alloy rated for at least one-year life in temperatures of 2,010°F (1,100°C). Used to direct air blast for special applications. See Nozzle section for more information.
Quick Exhaust Valve - 1" by Global Mfg - This patented valve was designed specifically for use with Global Air Cannons. It quickly evacuates air from the Air Cannon valve, guaranteeing a full, powerful blast even when the solenoid or 3-way valve is up to 100' from the Air Cannon. This valve increases the blast force by as much as 20% compared to other quick exhaust valves or a tank mounted solenoid. The G-Series quick exhaust valve (QEV) also insures closure of the Air Cannon valve immediately after the blast. This prevents contamination from entering valve or tank. The Global 1" QEV is standard on all GWE and G400 Air Cannon models. An after market 1" Global QEV (pn 308010) can be installed on all the GW Air Cannon models except for the GW2.5-8-24 (use a ¾" Deltrol QEV).
Quick Exhaust Valve ¾" - The GW2.5-8-24 Air Cannon cannot use the Global 1" QEV, use the Deltrol unit instead.
Safety Cable Kit - Includes anchor ring, 14 feet of cable, and cable clamps.
Solenoid Valve - 3-way normally open solenoid valve for automated/remote firing of the Air Cannons.
Tangential Mount Discharge Assemblies - Directs air blast downward and along the bin wall. Tangentially directed blast, a process patented by Global Manufacturing, is the most effective way to clear material sticking to the bin walls. Assembly includes mount plate, discharge pipe, mount flange, gasket, and hardware. Standard configuration directs the blast downward and to the right, but also available to direct the blast downward and to the left or just downward. Available in weld-on and bolt-on versions.
Reducer Coupling available on G400-60 models (6" discharge). Reduces discharge to 4" for use with 4" discharge pipe and nozzles.
Options
Stainless Steel model for use in very corrosive or "clean ~ FDA" environments. May include stainless tank and internal components, special coated aluminum piston, Teflon® encapsulated or silicon o-rings. There are different versions of the Stainless Steel models. Stainless Steel Air Cannons will be configured to your specifications. Consult factory.
Special Paint and other modifications to meet individual applications.
Air Cannon Diffuser Nozzles for Extreme
Heat Applications
Examples of Adjustable nozzle Configurations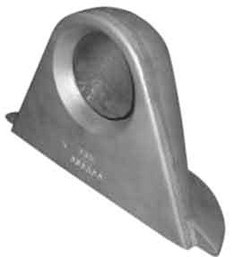 Design provides exact nozzle angle for many hard-to-reach locations. Nozzle tilt angles from 60-120° and lateral swivel angles up to 30° are available. Order factory-made to the desired angle or complete fabrication on-site for custom fits.
High Temperature Straight Nozzle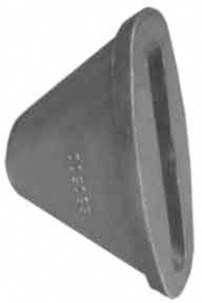 For use in corners to clean adjacent wall. On cylindrical structures, mount at an angle, producing a tangential blast, to effectively clean walls.
Examples of Adjustable nozzle Configurations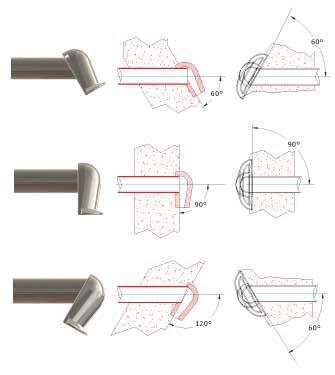 Advantages of Nozzles
Enhances Air Blaster Performance - Directs air blast along structure walls to enhance the removal of material buildups.
Designed for High Temperature Environments - Special stainless steel alloy withstands high temperature corrosion including oxidation, sulphidation, carburization, nitridation, and halogen corrosion. Withstands temperatures encountered in kilns operating in excess of 2,000°F (1,100°C).
Longevity - Heavy-duty cast design provides long life under high temperatures and exposure to flue gases.
Versatile Design - Adjustable Angled Nozzle easily customized at the factory or on-site to provide a wide variety of both nozzle tilt and lateral swivel angles for those hard to reach problem areas.
Ease of Installation - Order to fit exact wall specifications or complete fabrication on-site, using only square pipe cuts, for most customized fits.
Easy Replacement - Global Manufacturing's High Temperature Mount Plate and Discharge Assemblies allow user to replace nozzle without dismounting the Air Blaster. Assemblies include mount plate, discharge pipe, mount flange, high temperature gasket, and hardware. Available in weld-on or bolt-on versions.
Special Environments - Special alloys can be ordered for different chemical environments.
Operating Requirements
For use with any 4" discharge Air Blaster system.
Maximum Ambient Temperature = 2,000°F (1,100°C).
Discharge Isolation Slide Valve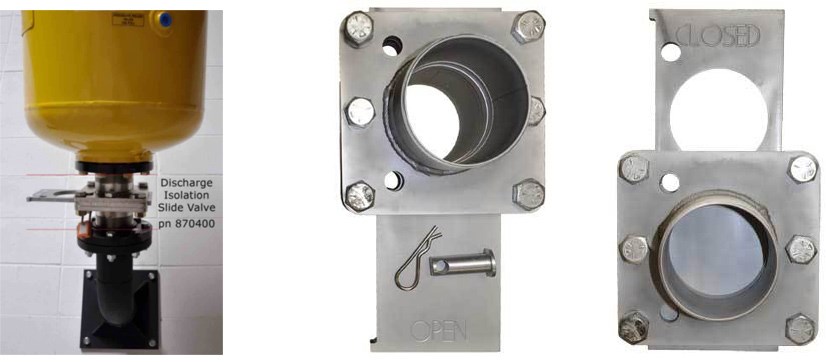 Discharge Assembly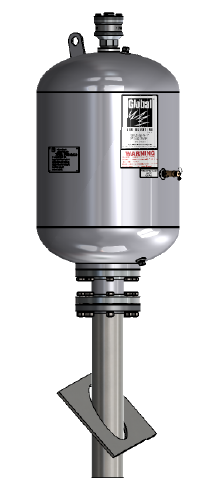 Air Cannon Mount Hardware Kit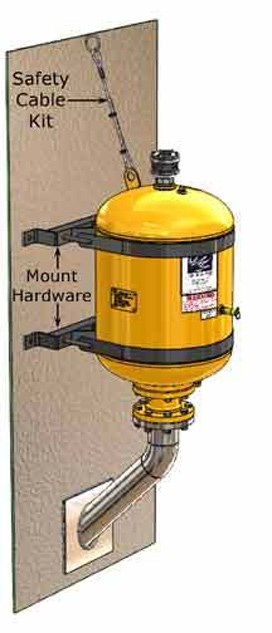 Blaster Master Timer
Blaster Master Timer Manual »