Findeva
K-Series Pneumatic Ball Vibrators
About Findeva Global Ball Vibrators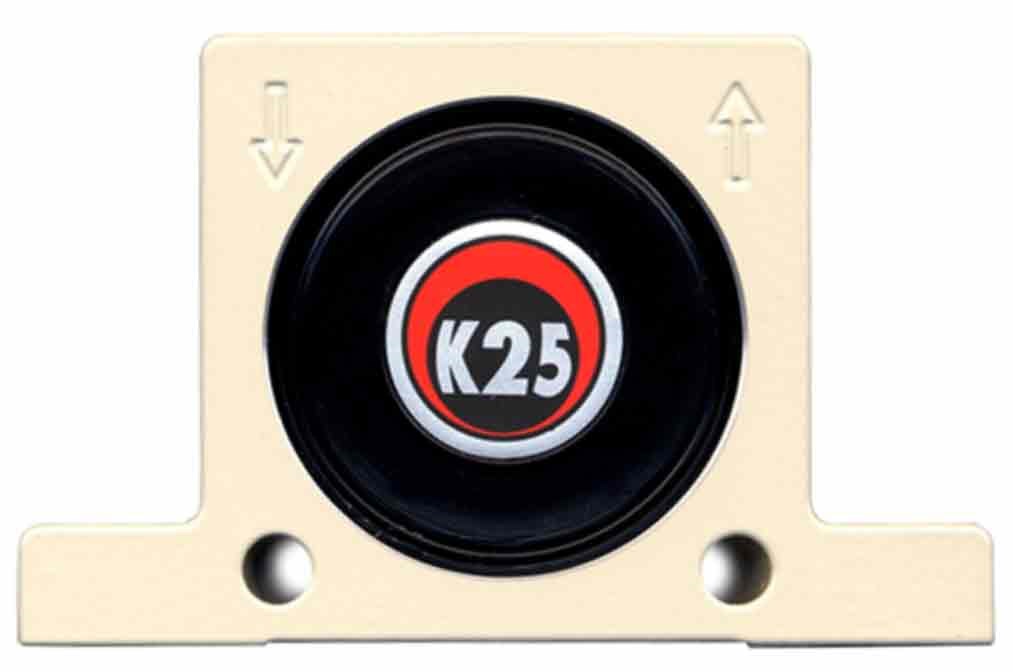 The largest Findeva pneumatic Ball Vibrator is capable of handling a load up to 9890 pounds (4486 kg) at 80 psi (5.5 bar). Higher air pressures are allowable, but faster wear on the ball and raceway rings occur. Use multiple vibrators on a single hopper when the load is greater than 9890 pounds (4486 kg). For example, to restore flow to a hopper with 19,000 pounds (8618 kg), use two Ball Vibrators. For more information please see:
Advantages of Findeva Ball Vibrators
Small, Super Lightweight - aluminum housing with baked enamel paint.
Nylon End Plates - Provide seal that prevents air leakage and keeps out environmental dust and water.
Maintenance Free - No motor or bearings.
No lubrication required.
Clean Operation - No oily mist because non-lubricated air is used.
High Frequency, Low Amplitude Vibration.
Versatile - Easy to control force and frequency by adjusting air supply.
Multiple Mounting Options - Two sets of bolt holes provide flexibility when mounting.
Produces Uniform, Directional Flow.
Specifications
Filtered air - depending on size and mount orientation.
15 - 80 psi (1 - 5.5 bar).
4 - 23 cfm (113 - 651 Lpm).
No lubrication required.
75 - 95 dBA with muffler.
Force output range up to 989 force pounds (4399 N) at 80 psi (5.5 bar) based on model used.
Frequency range up to 34,000 rpm at 80 psi (5.5 bar) based on model used.
Operate up to 80 psi (5.5 bar) – higher psi permissible but wears unit faster.
Maximum Ambient Temperature up to 220ºF (100ºC).
Accessories
Manual Valves - 2-way manual ball valve used to turn the vibrator on and off for normal operation.
Solenoids - For remote or automated control, use 2-way normally closed solenoid valve to turn the vibrator on and off for normal operation.
Airline Kits - Required for trouble-free operation and long life of ball vibrators. Includes airline filter and pressure regulator with gauge.
Mufflers - Reduce noise and prevent contamination from entering exhaust port. Note: These vibrators have BSP ports. Use plastic mufflers on the BSP ports, they fit better.
Sirometer - Convenient, compact rpm meter for measuring vibrator speed.
Selection of Findeva K-Series Ball Vibrators for Hoppers
For details on selecting vibrators see: