Air cannons / Air Cannons
GW and GWE Series
The GW and GWE Series Air cannons are suited for temperature ranges from 0º F (-18º C) to 130°F (54°C). They are not suited for high temperature applications or extremely low temperatures. See our G400 Air cannons for higher temperature ratings and our Sub Zero Air cannons for low temperatures.
The largest Air cannon generates a blast force of 3,965 force pounds (17.77 kN) in a .44 second pulse at 100 psi and has a circle of influence over 16 feet (4.9 m) depending on the type of material in the structure. The circle of influence is much greater in bulk material with low densities.
A single Air Cannon can solve a small problem in a chute for instance, whereas, multiple cannons will solve larger flow problems, such as silos filled with rice hulls, wood chips, or large hopers with cement, green sand, and many other types of bulk solids. Use Air cannons where vibration is not practical, other methods are too expensive, dangerous or destructive, or nothing else works, for example, concrete bunkers or storage piles on the ground.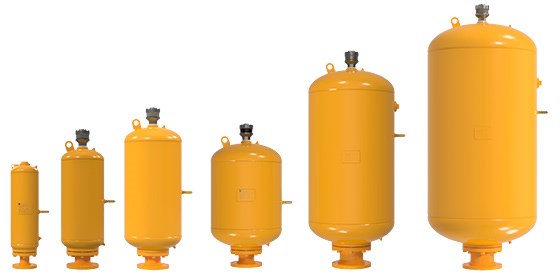 Advantages of the
GW and GWE Air Cannons
Produces Results Quickly and Efficiently - Quick blast of air permeates the material and dislodges trapped solids.
Handles Big Loads - Air blast spreads out in a cone pattern to aerate and loosen a large volume of material at one time. When used in combination, multiple Air cannons can restore flow to hundreds, thousands, or millions of cubic feet of material.
Quiet Operation - Noise of air blast is dampened by the material being aerated.
Energy Efficient - Air cannons have low air consumption since they collect air and are fired intermittently. They require only a small fraction of the air used to operate pneumatic rotary vibrators.
No Air Leakage - The Air cannon Piston is designed to prevent air loss. The piston nose is fitted with an o-ring for a superior seal, preventing air seepage between blasts in all GWE 4", GWE 6", GW4", and GW 6" Air cannon models. Due to the size of the GW2.5 model piston there is no seal, but has a contoured nose for a dependable seal. Air loss can be a problem in cannons using a metal-to-metal seal. O-rings guarantee an airtight seal against the valve seat more reliably than any other method of sealing.
Minimal Maintenance - Single moving part, no springs, no motors, no bearings, make Air cannons easy to maintain for many years.
No lubrication is required.
Patented "Springless" Valve Closure Technology - Global Air cannons have no mechanical springs, which is the weak link in many other air cannons-air cannons.
Fills Faster - Standard quick fill port allows tank to fill in less than 60 seconds (2.5" and 4.0" discharge models). This makes rapid repeat firing possible when needed.
Longevity - Corrosion, abrasion, and impact resistant piston. Coated valve parts resist acid and basic environments. Piston movement engineered to prevent excessive wear.
Ease of Service - All parts individually replaceable. If a part becomes worn or damaged, it is not necessary to replace the entire valve.
ASME Certified Pressure Vessels - All details of design, materials, construction, and workmanship of each vessel conforms to the ASME Code for Pressure Vessels, Section VIII, Division 1. Documentation available for each Air cannon upon request.
GWE models have Global's unique G-Series Quick Exhaust Valve (QEV) permanently mounted. This patented QEV was designed specifically for use with Global Air cannons. It quickly evacuates air from the Air cannon valve, guaranteeing a full, powerful blast even when the solenoid or 3-way valve is up to 100' from the Air cannon.
Good for aerating material sitting in bins, hoppers, and silos. Blast will lift and separate the material rather than compact it.
Use when vibration is not practical, for example, concrete bunkers or storage piles on the ground.
Specifications
Filtered air
40 - 120 psi (2.8 - 8.3 bar)
No lubrication required.
Maximum Ambient Temperature - 130°F (55°C).
Minimum Ambient Temperature - 0ºF (-18ºC).
Force Output range up to 3,965 force pounds (17.77 N) in a split second, at 100 psi (5.5 bar), based on model used.
The largest Air Blaster's Blast Force has a circle of influence over 16 feet (4.9 m) depending on the type of material in the structure. The circle of influence is much greater in bulk material with low densities.
Tank volumes vary; 19 L, 49 L, 100 L, 142 L, 299 L, and 645 L.
Accessories
Air Cannon Selection
Selection of the size and number of Air Blasters is based on the size of the bin, silo, bunker or hopper, and the density and consistency of the material (categorized into Type I or Type II material) . It is important to consider the area of influence data to insure full air blast coverage in the problem area.
For details please see:
How to Select and Size an Air Blaster