Viber® Flexible Drives
VIBER® Internal Concrete Vibrators use flexible drives to directly and mechanically transmit rotary power from the power unit to the vibrating head. The flexible drive consists of a core, the inner power transmitting component, and a casing, the outer flexible conduit that supports the core. Available as separate cores and casings or as assembled lubricated flex drives. Order with or without Quick Disconnect Drive Fittings.
Viber® Cores - Manufactured from extra high carbon steel wire wound in layers of opposing directions upon a center wire. Designed specifically for the direction of rotation and the torque requirements of VIBER® Internal Concrete Vibrators. Ends formed to be universally compatible with all VIBER® power units and vibrating heads.

Cores are compatible with:

the standard 1¹⁄₁₆"(26.96mm) diameter casing
the smaller ⅞" (22.2mm) diameter casing
Viber® Casings - Manufactured with a flat steel spring liner surrounded by layers of high tensile wire and cloth braids with an outside sheath of neoprene making them resistant to dust, oil, moisture, abrasion, and extreme temperatures. Casings are rigid enough to work the vibrating head easily in the stiffest concrete without collapsing, yet flexible and easy to grip for ease of handling and storing.

Casings are available in two diameters:

standard 1¹⁄₁₆" (26.96mm)
smaller ⅞" (22.2mm) diameter used with ⅞" (22.2mm) vibrating heads when working in narrow pours.
Both casing diameters come with fittings, which are universally compatible with all VIBER® power units and vibrating heads.
Viber® Flexible Drives - When ordered as complete Flex Drives, the core is greased and properly installed in the casing at the factory. These Flex Drives are ready to be installed (after the application of Teflon® tape to the casing threads at both ends) in the customer's chosen concrete vibrator system, consisting of any of the numerous Viber® power unit options; Electric, Pneumatic, or Gasoline, and vibrating head options.

Flexible Drives are available in two diameters:

1¹⁄₁₆" (26.96mm)
⅞" (22.2mm)

Flexible Drives are available in seven basic lengths:

1' (.305 m)
3' (.914 m)
5' (1.52 m)
7' (2.13 m)
10' (3.05 m)
14' (4.27 m)
21' (6.40 m)
35' or more (10.7 m) by using Viber's unique VCP coupling.
All power units and heads have identical fittings, so Viber® Flex Drives can be reversed - you switch (flip flop) the ends between the power unit and the head. This helps to redistribute the lubrication, which tends to migrate towards the vibrating head during normal use, helping to reduce wear and extend product life.
See Viber Flex Drive Operations Manual for more information.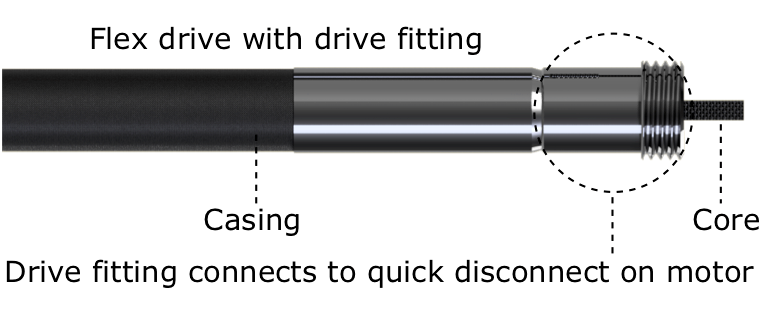 Flex Drive Assemblies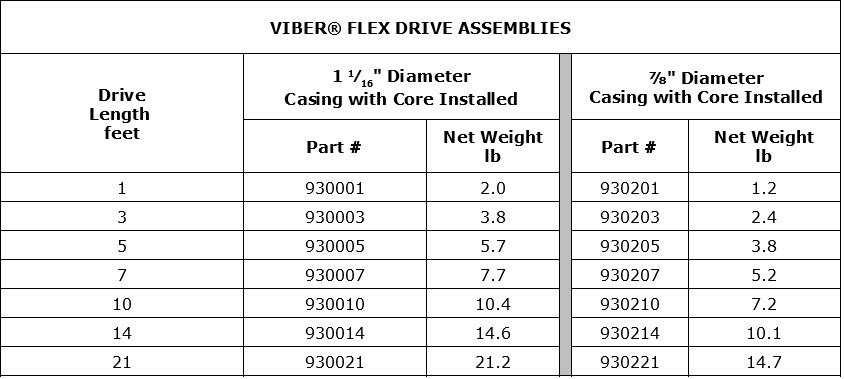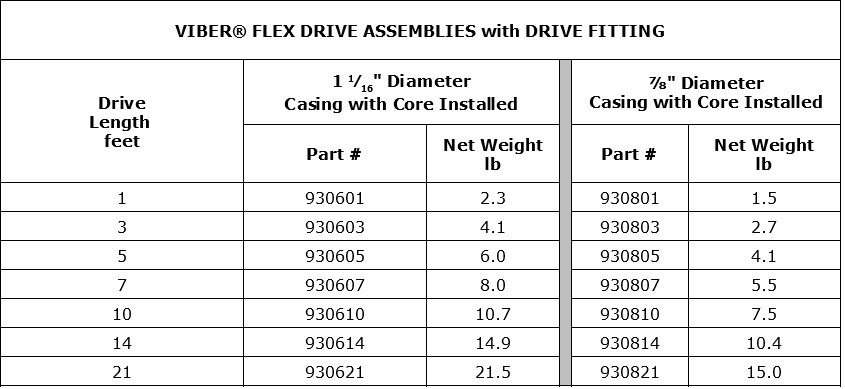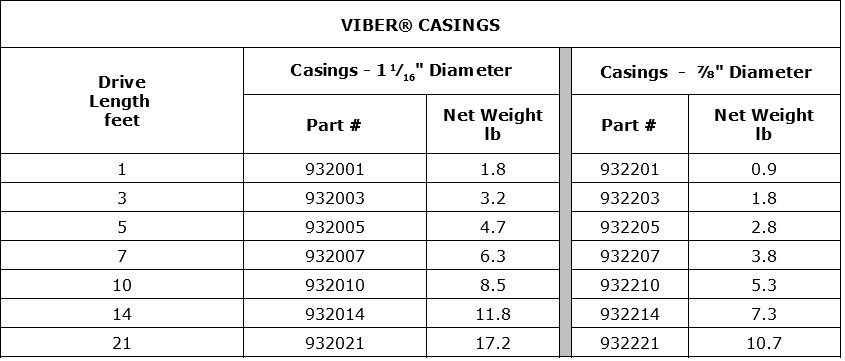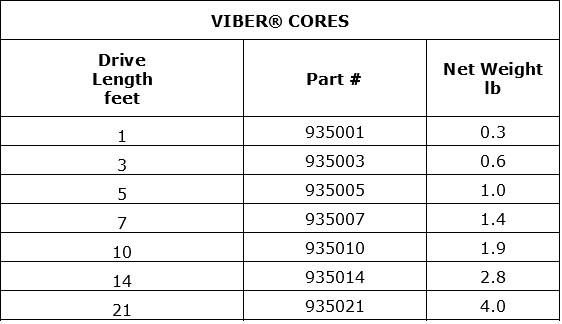 All VIBER® components use identical fittings so that VIBER® components are completely interchangeable. Any flexible drive can be used with any of the power units and any of the heads. The interchangeability provides exceptional flexibility and greatly reduces the amount of the contractor's inventory.
Parts and Accessories
Viber® Quick Disconnect – The Quick Disconnect is handy when it is necessary to frequently change flexible drives or to make it easier to store your equipment. The Quick Disconnect allows quick and easy removal of the flexible drive from the power unit without the use of tools. Simply turn the large star-shaped nut clockwise. This Quick Disconnect accessary comes standard on all gasoline powered VMG power units, pneumatic VMP power units, and electric VMK power units ordered as "Q" models. Quick Disconnect kits are available to upgrade any power unit shipped without the feature. The Quick Disconnect Drive Fittings are easily added to any Flex Drive.
Viber® Flex Drive Coupling – The VIBER® bearingless, cool-running coupling connects one Flexible Drive to another. You can easily extend our Flex Drive reach to 35 feet or more. Longer lengths can be assembled, but tend to get quite heavy ~ approximately 100 lb for 100 ft. Use caution connecting Flex Drives, to an electric power unit, with lengths over 35 feet. Excessively tight bends in the Flex Drive will cause excessive wear on the drive and greatly increases the demands on the electric motor causing it to overheat. Excessive bends will also slow down the performance of the pneumatic and gasoline power units

Flex Drive Couplings are available in two diameters:

1¹⁄₁₆" (26.96mm)
⅞" (22.2mm)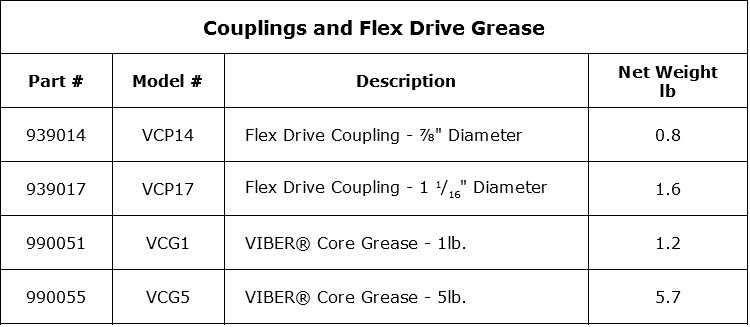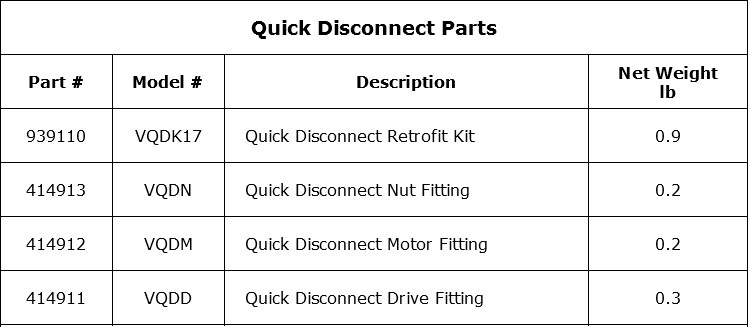 Viber® Shoulder Strap & Harness
The Shoulder Strap can be used with all electric or pneumatic models. The Ergonomic Shoulder Harness provides comfort to operator while using the VMG-1750HH. It fastens comfortably around the shoulders distributing the weight of the motor evenly across the upper back.