Electric Vibrators Available in Three Designs
There are many different model configurations in various housing profiles.

QT Series - AC Vibrators

Single Phase
Three Phase
Two-pole - 3,600 rpm
115V
230/460V
60 Hertz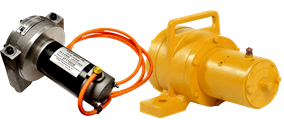 CEG Series - DC Vibrators

12 Volt
24 Volt
Intermittent Duty
Continuous Duty
About Electric Vibrators
Quiet Thunder® Electric vibrators, single-phase, three-phase models, 12-Volt, and 24-Volt models are rotary vibrators. They use an electric motor to rotate shaft-mounted unbalanced weights to produce vibration. The speed of the rotation and the size of the unbalanced weights determine the force pound output. Rotary electric vibrators are non-impacting. When properly installed, the vibration is transferred through the hopper wall or truck bed to the material inside, without flexing the structure. Rotary vibration causes displacement of the material away from the hopper wall, allowing the material to slide from the hopper. Frequency and force of the vibration is what restores material flow. For more information please see
Electric vibrators are much more quiet and efficient than pneumatic or hydraulic rotary vibrators. They are especially useful where air or hydraulic power sources are not available and where quiet operation is necessary.
Applications
Quiet Thunder® Electric Rotary Vibrators produce vibration of low to medium frequency and a wide range of forces up to 4,548 pounds of centrifugal force (20.23 kN). This makes them well suited for moving a wide variety of fine to coarse mesh materials in all sizes of bins and hoppers. The CEG DC Series Vibrators are ideal for dump trucks, feed hoppers, seed tenders, hopper trucks, fertilizer spreaders, concrete pump trucks, salt spreader hoppers and many more.