QUIET THUNDER® ELECTRIC VIBRATORS
About Quiet Thunder® Electric Vibrators - AC Models
Quiet Thunder® Electric Rotary Vibrators operate on alternating current (AC). They are especially useful where air or hydraulic power sources are not available. A major advantage of Electric vibrators is they are extremely quiet; the only noise is the hum of the electric motor. Global's QT and DEG Series electric vibrators are available in 2-pole (3600 RPM), various voltages, 50 or 60 Hertz, and single and three-phase AC current.
Electric Rotary Vibrators produce vibration of low to medium frequency and a wide range of forces. The smallest Electric Vibrator generates 40 force pounds (.18 kN) of centrifugal force, while the largest generates 3,300 pounds of force (14.68 kN). The largest electric vibrator is capable of handling a load up to 33,000 pounds (14,969 kg). Use multiple vibrators on a single hopper when the load is greater than 33,000 pounds. For example, to restore flow to a hopper with 60,000 pounds (27,216 kg), use two of the largest Electric Vibrators. For more information please see: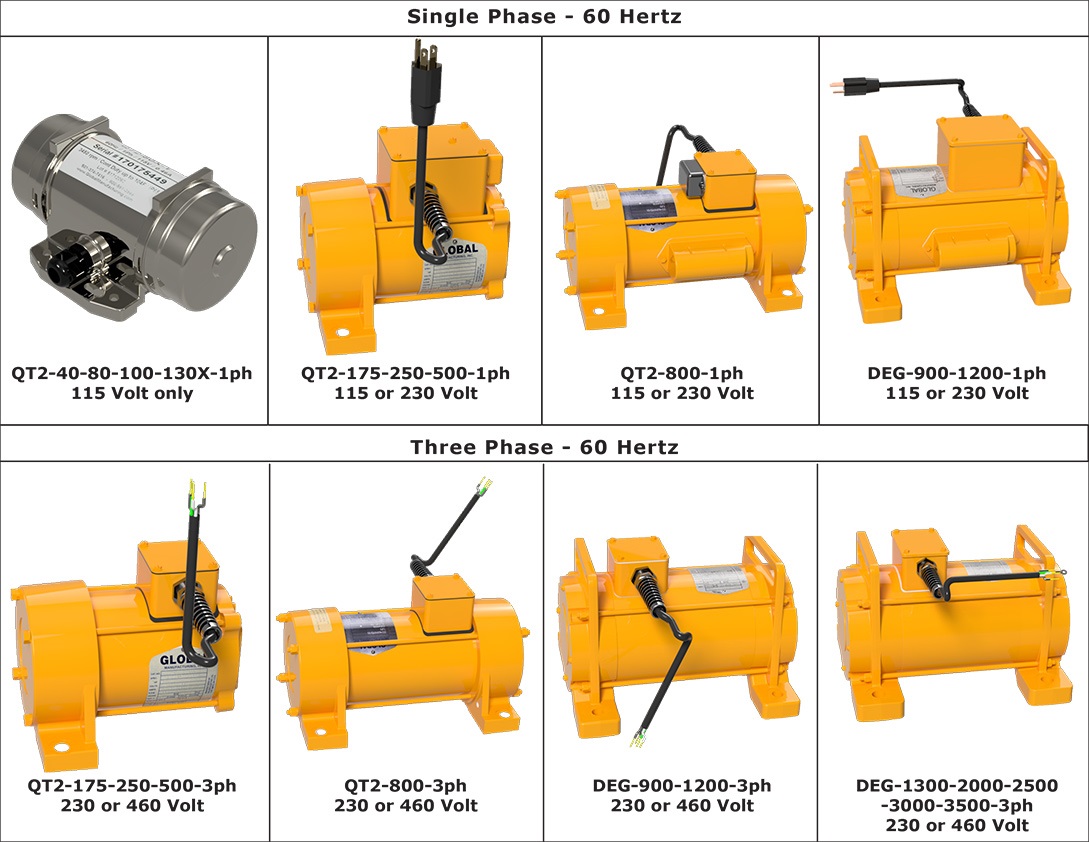 Advantages of Quiet Thunder® Electric Vibrators:
Rugged Construction - Rugged ductile iron bearing housings on larger DEG models. Lightweight heat treated aluminum housings on smaller QT models.
Shock Resistant Motor Windings - The motor windings are epoxy encapsulated which enables vibrators to withstand heavy duty service and vibration.
Extremely Quiet – Only hear the hum of the electric motor.
Highly Efficient - Less expensive to operate than pneumatic vibrators.
Adjustable Force Settings - Centrifugal force settings can be quickly and easily changed, without the need for special tools, to accommodate different loads.
Vibrators are silicone sealed - In order to keep out contaminants.
Long-lasting - High capacity bearings, permanently sealed, allow vibrator to handle tough applications without maintenance
Weather Tight Construction - Units sealed with silicone to keep out contaminants.
Easily Repairable - Easy disassembly. Bearings, o-rings, retaining rings are standard parts commonly available from your local bearing distributor. Rotors and stators replaceable on most models.
Produces Uniform, Directional Flow.
Specifications
Alternating Current - Configurations dependent upon model.

Single-phase - 115 or 230 Volt 60 Hertz
QT2-40-80-100-130 - Single phase - 115 Volt - 60 Hertz only
Three-phase - 230 or 460 Volt - 60 Hertz

No lubrication required.
<70 dBA
Force output range up to 3300 force pounds (14.68 kN).
Frequency range is 3,600 rpm.
Ambient Temperatures from -20ºF (-30°C) up to 211ºF (99°C) depending on model used, with 130ºF (54°C) being the temperature for most models.
Selection of Electric Vibrators
For details on selecting vibrators see: