Industrial Vibrators for unloading Railcars
Pneumatic Piston Railcar Vibrators
Built-in Brackets
All wedge type brackets fit into universal railcar pocket bracket
Click on Vibrator to see details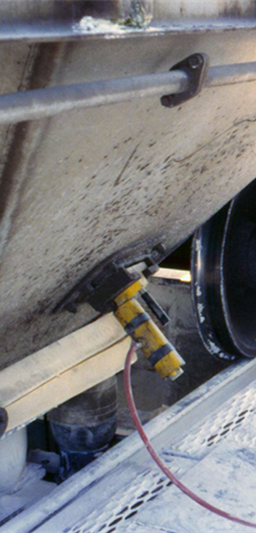 Pneumatic Rotary Railcar Vibrators
Vibrators fit different bracket styles which fit into a universal railcar pocket.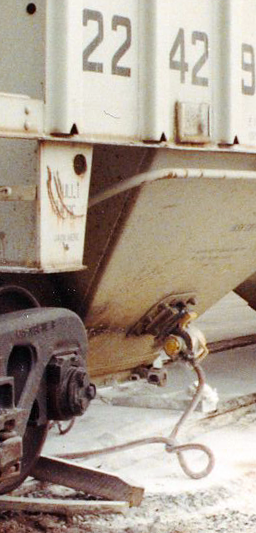 Rotary Vibrator in Railcar Pocket
Rotary vibrators, especially high speed models, unload fine particulate bulk solids, such as limestone fines, more efficiently than piston impacting vibrators. The high speed 'liquifies' the material.
Click on Vibrator to see details
GBMX - Very Popular Bracket for Railcars
TCL Vibrator on
GCL/GBMX Bracket
• Excellent Bracket for Railcar Unloading
• Fits Universal Railcar Pocket Bracket
• Unitized Construction
• One Piece Ductile Iron Casting
• Heavy Duty - Handles Rough Treatment
• Design has a Hammer Strike Plate
• Features a Unique Handle for Ease of Use
Hammer Strike Plate
After unloading, the vibrator may become wedged in the railcar pocket. The best way to dislodge the vibrator is to use our unique Hammer Strike Plate. Operators often use a large hammer and hit the vibrator, causing damage. The GBMX Bracket features a heavy-duty strike plate, which extends below the railcar bracket. The hammer blow is directed to the strike plate and not to the vibrator.
Clamp-on Vibrators