Silver Sonic Pneumatic Turbine® Vibrators
About SST Turbine Vibrators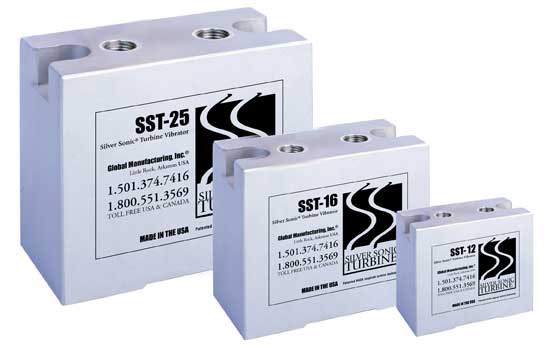 Silver Sonic Turbine® Vibrators are highly efficient, patented vibrators. Compared to similar sized ball vibrators, these turbine vibrators produce the same force, with twice as much frequency, while consuming less than 1/5 the amount of air. We have 4 sizes (from smallest to largest): SST-12, SST-16, SST-25, and SST-35. The largest Silver Sonic Turbine® Vibrator is capable of handling a load up to 18,630 pounds (8450 kg). Use multiple vibrators on a single hopper when the load is greater than 18,630 pounds (8450 kg). For example, to restore flow to a hopper with 37,000 pounds (16,783 kg) use two Turbine Vibrators. These vibrators are also used in concrete consolidation. For more information please see:
Advantages of Silver Sonic Turbine® Vibrators
Small, Lightweight - Super light aluminum housing.
Conserves Plant Air - NASA-inspired, highly efficient turbine design produces maximum force and speed with minimum air consumption.
NASA inspired - Global Manufacturing worked with NASA on the development of the turbine wheel.
Highly Efficient - Revolutionary, patented turbine design will run on just 5 psi (.34 bar) using 1-3 cfm (28 - 85 Lpm). More efficient than other pneumatic vibrators including other turbine vibrators. At a given pressure, Silver Sonic Turbine® vibrators can produce the same force, with twice as much frequency, while consuming less than 1/5 the amount of air, as a comparatively sized ball vibrator.
Quiet Operation - Specially engineered one-piece aluminum housing, with a unique bolt hole placement and brilliant turbine design produces high force and speed, while maintaining a low noise level, within OSHA guidelines.
Patented - All models are patent protected.
Easy Maintenance and Repair - High-speed bearings with special grease are designed for long life at high rpm's with no lubrication. TVRK Bearing Repair Kit makes bearing replacement easy.
No lubrication required.
Clean Operation - The solid aluminum housing will not flake or peel like painted or coated products. There is no oily mist because no lubrication is required.
Ideal for Food Processing, Pharmaceutical, and other "Clean Environment" Applications.
Restores Material Flow - Silver Sonic Turbine® vibrators provide both high frequency and high amplitude.
Versatile - Easy to control force and frequency by adjusting air supply.
Simple to Mount - Mounting bolts and washers included with vibrator. Turbine mount kits available for quick and easy installation. Kits include a channel iron (threaded to accept fasteners), hose barb, and hose clamp.
Inexpensive to purchase - Mounting bolts, washers and muffler included with vibrator.
Produces Uniform, Directional Flow.
Specifications
Filtered air - psi required depends on size and mount orientation.
5 - 80 psi (.4 - 5.5 bar).
1 - 20 cfm (28 - 566 Lpm).
No lubrication required.
80-90 dBA with muffler.
Force output range up to 1863 force pounds (8287 N) at 80 psi based on model.
Frequency range up to 40,000 rpm @ 80 psi (5.5 bar) based on model.
Operate up to 80 psi (5.5 bar) – higher psi permissible but bearing wears out quickly and increases noise level.
Maximum Ambient Temperature up to 180ºF (82ºC).
Accessories
Manual Valves - 2-way manual ball valve used to turn the vibrator on and off for normal operation.
Solenoids - For remote or automated control, use 2-way normally closed solenoid valve to turn the vibrator on and off for normal operation.
Airline Kits - Required for trouble-free operation and long life of turbine vibrators. Includes airline filter and pressure regulator with gauge.
Mufflers - Reduce noise and prevent contamination from entering exhaust port (vibrators ship with mufflers, mount bolts, and washers).
Installation Kits (TVMK) - includes mount channel with threaded holes ready for the bolts, hose barb, & hose clamp.
Bearing Repair Kits (TVRK) - include bearings and bearing replacement tool.
Sirometer - Convenient, compact rpm meter for measuring vibrator speed.
Selection of Silver Sonic Turbine Vibrators for Hoppers
For details on selecting vibrators see:
Selection of Silver Sonic Turbine Vibrators for Concrete Consolidation
Please see: