Findeva Pneumatic
Golden Turbine and Stainless Steel Vibrators
About Findeva Turbine Vibrators
Findeva GT Series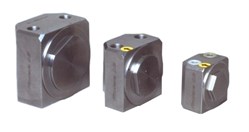 Findeva GTRF Stainless Steel Series
There are two types of Findeva Turbine models. The GT model is the standard model. The GTRF is stainless steel and meets FDA requirements. The largest Findeva Golden Turbine (GT) Vibrator is capable of handling a load up to 21,540 pounds (9,770 kg). Use multiple vibrators on a single hopper when the load is greater than 21,540 pounds (9,770 kg). For example, to restore flow to a hopper with 43,000 pounds (19,504 kg) use two Findeva Golden Turbine Vibrators. For more information please see:
Advantages of Findeva Turbine Vibrators
Small, Super Lightweight - aluminum housing with baked enamel paint and hard coated end plates.
Highly Efficient - More efficient than other pneumatic rotary vibrators including all ball and roller vibrators.
Quiet Operation - 60-75 dBA. Much quieter than most other pneumatic rotary vibrators.
Easy Maintenance and Repair - Special pre-lubricated high-speed shielded bearings are designed for long life at high rpm's. Just unscrew cover and pull bearings out to replace.
No lubrication required.
Clean Operation - Uses non-lubricated air - no oily mist or residue. Baked enamel paint will not flake off. Stainless Steel have no enamel or paint on them.
High Frequency, Medium Amplitude Vibration.
Versatile - Easy to control force and frequency by adjusting air supply.
Meets FDA Requirements - The Stainless Steel Models (GTRF) are perfect for pharmaceutical and food industries. Steel housing will not rust, flake, or peel. Standard model has baked enamel paint.
Produces Uniform, Directional Flow.
Specifications
Filtered air.
20 - 90 psi (1.4 - 6.2 bar).
1.2 - 32 cfm (34 - 906 Lpm).
No lubrication required.
60 - 75 dBA with muffler.
Force output range up to 2,154 force pounds (9,581 N) at 80 psi based on model used.
Frequency range up to Up to 45,000 rpm @ 80 psi (5.5 bar) based on model used.
Operate up to 80 psi (5.5 bar) – higher psi permissible but bearing wears out quickly and increases noise level.
Pipe thread is BSP (British Standard Pipe) but will accept NPT (National Pipe Thread).
Maximum Ambient Temperature up to 302ºF (150ºC).
Accessories
Manual Valves - 2-way manual ball valve used to turn the vibrator on and off for normal operation.
Solenoids - For remote or automated control, use 2-way normally closed solenoid valve to turn the vibrator on and off for normal operation.
Airline Kits - Required for trouble-free operation and long life of turbine vibrators. Includes airline filter and pressure regulator with gauge.
Mufflers - Reduce noise and prevent contamination from entering exhaust port. Note: These vibrators have BSP ports. Use plastic mufflers on the BSP ports, they fit better.
Sirometer - Convenient, compact rpm meter for measuring vibrator speed.
Selection of Findeva Turbine Vibrators for Hoppers
For more details on selecting vibrators see: